Insulin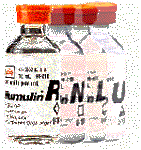 Insulin Information
It is helpful to remember that therapy with insulin is actually hormone replacement therapy. The goal of diabetes management is to give insulin in a physiologic way that simulates normal pancreatic and beta cell responses to food intake. However, the insulin formulations that are currently available cannot exactly mimic the normal insulin profile that occurs during a 24-hour period.
Regular insulin was the first insulin developed. Regular insulin has a relatively quick onset of action (within an hour). It peaks in 2-3 hours and its duration is generally 6-8 hours. Insulin was made longer acting by formulating it with zinc causing the insulin to form large crystals that lead to a delayed release of insulin. NPH insulin is a suspension of protamine crystals with insulin bound to it. Once injected, the insulin in NPH slowly comes apart from the protamine crystals and is absorbed into the circulation.
In the past, all insulins were derived from the pancreas glands of animals, such as cows and pigs. Although animal-source insulins are still available, most people who start insulin therapy today take human insulin, a preparation of recombinant DNA technology. Unlike animal-source insulins, which differ slightly in structure and may cause antibody reactions to occur, human insulin is exactly like the insulin made by the normal human body.
The Time-Activity Profiles (TAPs) of insulin are a common source of confusion. Regardless of the formulation, the onset, peak and duration of insulin activity can be influenced by many factors. The given times serve only as a general guide; the hypoglycemic response in a particular patient must be observed, and insulin dosage, timing, activity or exercise level, and food intake must be adjusted according to the patient's needs, not according to the approximate times in a TAP chart or graph. But the TAPs do give a good indication how the different insulins work
Time-Activity Profiles

Insulin

Onset

Peak

Duration

Regular
1/2 to 1 hour
2 to 3 hours
4 to 6 hours
NPH
2 to 4 hours
4 to 10 hours
14 to 18 hours
Lente
3 to 4 hours
4 to 12 hours
16 to 20 hours
Ultralente
6 to 10
minimal
20 to 30 hours
Function of Insulin in Relationship to Glucose
Glucose is the primary fuel for all body tissues. The brain uses about 25% of the total body glucose. Because the brain can store very little glucose, a constant but controlled supply of glucose must always be available in the bloodstream to maintain adequate brain function. It is imperative that the blood glucose level b e maintained in the 80 to 120 mg/dl range to prevent nervous system compromise. Your blood glucose level can be obtained by a simple and common test.
Insulin is the primary hormone for regulating blood glucose levels. It accomplishes this function by controlling the rate at which glucose is taken up in muscle, fat, and liver cells.
Each of these types of body cells use glucose in a different way, as determined by specific enzyme systems. The management of diabetes is based on the interaction of insulin and other hormones with the cellular processes of these three types of body cells.
Glucose is the most profound stimulus to insulin release.



Factors That Affect Insulin Uptake
Size of dose.Increasing the dose of insulin delays the peak and prolongs the total duration of hypoglycemic activity. For example, one might observe the "classical" TAP for Regular insulin with a particular dose but find a clinically different pattern by significantly increasing or decreasing the insulin dose.
Injection Site. Insulin injected subcutaneously into the abdomen is generally absorbed more rapidly than insulin injected into other sites.
Presence of insulin antibodies. Antibodies bind circulating insulin and prevent its immediate activity. Thus, significant antibody concentration delays insulin's effect and alters the TAP.
Activity. Insulin injected subcutaneously into the thigh, followed by vigorous activity, will result in increased insulin activity compared to insulin injected elsewhere. Massaging any injection site may also affect the relative TAP.
For more information call: The American Diabetes Association, 1-800-232-3472
---
This site produced by Power Verbs